---
Tuition
---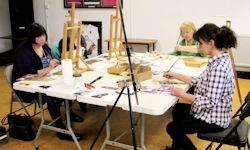 ---
Unleash the hidden artist in you. I believe anyone can paint. Don't believe me? Then give it a go. In my opinion, oil painting is the easiest medium to paint with and gives the most vibrant results.
All abilities welcome.
I run regular classes locally (Rickmansworth), open workshops and workshops for art groups.
Go to my tuition page for more information...
I Want To Paint