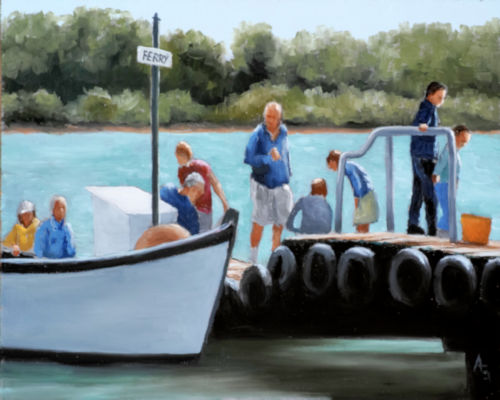 ---
Monday evening
By popular demand, this week I will be demonstrating painting figures in the landscape. It is quite a complex image and I don't plan on having a finished painting at the end of the night but what I hope you will find is that figures shouldn't be avoided they can bring life to your paintings. As you can see I have doubled up on the grid because of the detail, If you use the grid be careful not to get lost as you are drawing. (It is one of my photos, you are welcome to print and paint from it.) I will be demonstrating on a 10 x 8 board I wouldn't recommend any smaller than this.
This is last night's demo painting. My aim was to show my approach to painting figures. I mixed a simple flesh tone out of mainly burnt sienna and using this I worked across all the figures painting all their flesh. Then starting from the left-hand side I painted their hair mixing colours as I went along. Then I repeated for their clothing. All the time making small adjustments to their heads. Then I started to work on the elements surrounding them. This is not my normal approach, if not demonstrating I would work from background to foreground.
Painting stage 1


I continued to paint the background and foreground keeping it fairly simple and editing out alot of the detail.
Painting stage 2
This is the palette I used for the painting, using just a simple 6 colour palette plus phthalo blue because I wanted to get the more aquamarine water colour. This is a messier palette than usual.
Figures Palette

Tuesday Morning
I will be running an interactive class, you can paint this picture or your own project.